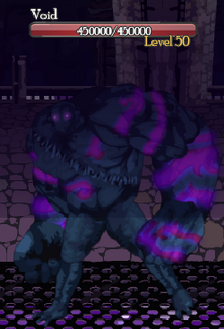 After defeating
Fuerte Ira
, players will enter a second floor in
Escondido Chateau
, where they will face Void after one wave of enemies.
Abilities
Edit
Void has 3 attacks: a single powerful strike, a 2x strike against a target, and a 1x AoE with a chance to stun (which can stun multiple people at the same time).
If you've made it this far, you should know what you're doing...
Void is of the Darkness element, and is therefore weak against Light, and strong against Plant.
Ad blocker interference detected!
Wikia is a free-to-use site that makes money from advertising. We have a modified experience for viewers using ad blockers

Wikia is not accessible if you've made further modifications. Remove the custom ad blocker rule(s) and the page will load as expected.