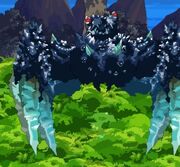 The Toxico Spider is found at Earthstone, after defeating 3 waves of enemies. He has high health and a moderate attack.
Abilities
Edit
The Toxico Spider can attack normally, add 2% to his attack, or attack everybody--with moderate to high damage.
A high damage dealer and a healer is advised. However, if you can kill it fast enough, a healer isn't really needed.
Toxico Spider is of a Beast element, and is therefore weak against Fire, Light, and Earth, and strong against Plant and Mechanic.
Ad blocker interference detected!
Wikia is a free-to-use site that makes money from advertising. We have a modified experience for viewers using ad blockers

Wikia is not accessible if you've made further modifications. Remove the custom ad blocker rule(s) and the page will load as expected.