The Hunter Armor is the first elite light armor to be crafted. It is also required by the level 30 light armor, Royal Knight Armor.
The Hunter Armor ir pirmās elitārās vieglās bruņas. Tās nepieciešamas, lai izveidotu 30 līmeņa vieglās bruņas, Royal Knight Armor.
Crafting Requirements
Edit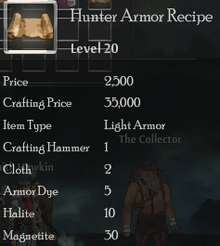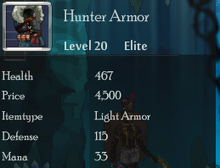 | | |
| --- | --- |
| Defense | 115 |
| Health | 467 |
| Mana | 33 |
Where to Find
Edit
The recipe drops from the Pirate Captain.
Recepte krīt no Pirate Captain.
Crafting Hammer drops from Dark Deep Sea Predator. Cloth is exchanged for warrior stones at the Collector in Port Ville. Armor Dye drops from several enemies. Halite is a Jungle mine rare, but can also drop in the Old Mines zone. Magnetite is an Underwater Cave Mines common.
Crafting hammer krīt no Dark Deep Sea Predator. Cloth ir nopērkams par warrior stones pie Collector, Port Ville. Armor dye krīt no dažādiem mobiem. Halite ir izrokams kā rets akmens Jungle mine, bet to var iegūt no lokācijas Old Mines mobiem. Magnetite ir izrokams Lokācijā Underwater Cave Mines, kā parastais resurss.