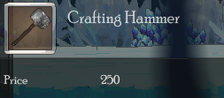 Crafting Hammer is a crafting item, used to craft the elite level 20 weapons
Elevado Libro
, 
Brumweiht
,
Sea Serpent Finger
,
Lion Lance
,
Star Shooter
,
War Fork
, 
Vasto Rod
,
Venganza Sabre
, and
Turtle Shell
, the elite level 20 armors 
Hunter Armor
 and 
Elite Conquistador Armor
, and the elite level 20 helmet 
Roman Helmet
.
It is dropped by Dark Deep Sea Predator, at Dark Ocean.
Ad blocker interference detected!
Wikia is a free-to-use site that makes money from advertising. We have a modified experience for viewers using ad blockers

Wikia is not accessible if you've made further modifications. Remove the custom ad blocker rule(s) and the page will load as expected.